Global-first Alliance distribution warehouse open for business in Australia
Pressemitteilung •
Jul 09, 2018

&nbsp

09:00

&nbsp

CEST
MELBOURNE, Australia (9 July, 2018) – Renault-Nissan-Mitsubishi today announced the opening of a state-of-the-art National Distribution Centre in Melbourne, Australia.
The shared parts and accessories warehouse is a first for Alliance member companies, which globally sold more than 10.6 million vehicles in 2017. It is designed to maximise productivity, efficiency and accuracy in order fulfillment, allowing manufacturers to enhance service to their national dealership networks.
The facility will become the new master warehouse for Renault, Nissan and Mitsubishi Motors' national distribution network and will also service the INFINITI brand, which falls under the Alliance.
Based in the Melbourne suburb of Truganina, the purpose-built facility is strategically located between Melbourne's sea container terminal and the airport. The facility has direct access to all interstate roads, is over 37,000 square metres in size, and is part of a CEVA super site that is the largest logistics facility in the southern hemisphere.
"Today's grand opening is a significant milestone for the Alliance," said Kent O'Hara, global senior vice president of Aftersales for the Alliance.
"This shared facility is another example of how the Alliance continues to generate synergies to the benefit of our companies, customers and shareholders at a global level."
Housing more than 90,000 different parts, the Alliance National Distribution Centre manages 11 inbound sea containers daily, as well as airfreight and other local shipments. It brings in 2,500 parts each day, while eight B-double transporters - as part of a same day service - deliver 8,500 parts direct to dealerships.
Operating 24 hours a day and transporting parts across the entire country, the warehouse has space for approximately 100,000 parts and accessories. It includes a 677-square metre wet room with space for 700 pallets and employs over 90 staff.
One of the first six star Green Star built and accredited buildings in Australia, it has a roof-mounted solar system to provide renewable energy, high bay LED lighting with daylight and motion sensors, early suppression fast response sprinkler systems and a rain water system for bathroom and garden irrigation.
It also incorporates industry-leading technologies and processes for the fast and efficient movement of automotive parts and accessories. These include a dedicated area for the storage of hazardous liquids such as oils, transmission and break fluids, and the 10 container docks allow for high volume inbound and outbound shipments.
The Alliance National Distribution Centre will be fully operational in July 2018.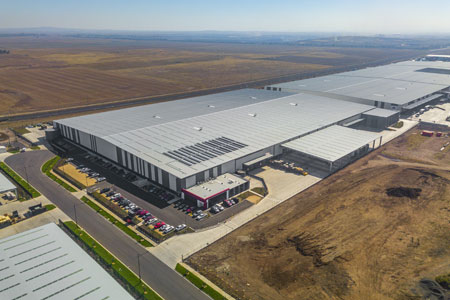 About Renault-Nissan-Mitsubishi:
Groupe Renault, Nissan Motor and Mitsubishi Motors represent the world's largest automotive alliance. It is the longest-lasting and most productive cross-cultural partnership in the auto industry. Together, the partners sold more than 10.6 million vehicles in nearly 200 countries in 2017. The member companies are focused on collaboration and maximizing synergies to boost competitiveness. They have strategic collaborations with other automotive groups, including Germany's Daimler and China's Dongfeng. This strategic alliance is the industry leader in zero-emission vehicles and is developing the latest advanced technologies, with plans to offer autonomous drive, connectivity features and services on a wide range of affordable vehicles.
Die Mitsubishi Motors Corporation ist der älteste Automobil-Serienhersteller Japans. Bereits 1917 fertigte das Unternehmen das serienfähige Modell A in Kobe, es wurde von einem 2,8-Liter-Vierzylinder mit 35 PS angetrieben. 1921 begann die Produktion von Leichtlastwagen, 1934 entstand der erste Personenwagen mit Allradantrieb und Dieselmotor, der PX 33. Mit dem Geländewagen Pajero, dessen Wettbewerbsversion zwölf Mal die Rallye Paris Dakar gewann, hat Mitsubishi Geschichte geschrieben. Auch im On-Road-Rallyesport konnte die Marke punkten und gehört mit fünf Titeln als Rallye-Weltmeister zu den erfolgreichsten Autoherstellern dieses Wettbewerbs. Heute ist das Ziel nachhaltiger Mobilität in die Unternehmensstatuten eingebettet. Mit dem Elektrofahrzeug Mitsubishi Electric Vehicle gelang der Schritt in die E-Mobility, der Plug-in Hybrid Outlander ist das erste SUV Plug-in Hybrid mit Allradantrieb.
Die Deutschlandzentrale der MMD Automobile GmbH (MMDA), dem deutschen Importeur von Mitsubishi Fahrzeugen ist seit Dezember 2017 in Friedberg angesiedelt. Das europäische Entwicklungs- und Designzentrum von MMC ist sesshaft in Trebur.
Im Jahre 1977 begann in Rüsselsheim die Auslieferung der ersten Fahrzeuge mit den drei Diamanten im Kühlergrill. In der mittlerweile 40-jährigen Firmengeschichte von Mitsubishi Motors in Deutschland wurden insgesamt mehr als 1,7 Millionen Fahrzeuge verkauft. Heute sind rund 500.000 zugelassene Mitsubishi Modelle auf deutschen Straßen unterwegs. Die Mitsubishi Modelle werden in Deutschland von Händlern an mehr als 600 Vertriebs- und Servicestandorten vertrieben.
Seit Anfang 2014 gehört die MMD Automobile GmbH mehrheitlich zur Emil Frey Gruppe Deutschland.